Frances Cornford Bibliography
I used to think that grown-up people chose
To have stiff backs and wrinkles round their nose,
And veins like small fat snakes on either hand,
On purpose to be grand.
Till through the banister I watched one day
My great-aunt Etty's friend who was going away,
And how her onyx beads had come unstrung.
I saw her grope to find them as they rolled;
And then I knew that she was helplessly old,
As I was helplessly young.
This is a piece that really intrigues me because it manages to have both a childlike tone, and also one that is so spot-on in expressing the 'helpless' tragedy of old age. It evokes so beautifully the way that age defines us — both as a child, and as an elderly person.
Phrases like "grown-up people" and the notion of people getting "stiff backs" and  veiny hands "on purpose to be grand" ensure that the poet's voice retains a childish element. We can all remember thinking things like this of 'grown-ups' when we were children; age limits the child's understanding and empathy due to lack of experience.
The speaker describes her "great-aunt Etty's friend" who's beads have "come unstrung" and who gropes around to find them "as they rolled". What a poignant image. The word 'unstrung' is carefully chosen – it delivers the notion of a life unravelling… It is an important moment in a child's life, when they first realise the limitations and failings of adults – and when they first become conscious of their own mortality.
I'm sure everyone can relate to the feeling you get when you witness helpless old age, or helpless frailty. It does something to you because you are watching somebody suffer, but also because you are being faced with a weakness that you know is within you also, and that is hard to admit.
I think the word "helpless" is perfect in this situation. The old lady, great-aunt Etty is "helplessly old" and the speaker is "helplessly young". Etty is limited by her frail body in her movements, and the speaker is limited in her empathy and understanding by her youth.
Reviewed by Emily Ardagh
analysisPoetry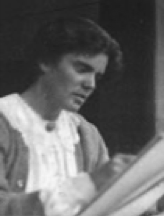 Frances Darwin Cornford was an English poet who was a member of the famous Darwin-Wedgewood family. Her ancestry began in the 18th century with Doctor Erasmus Darwin and the founder of the world-famous pottery firm in the English midlands, Josiah Wedgewood. Other notable members of this family line included her grandfather who was the well-known British naturalist Charles Darwin, along with at least ten Fellows of the Royal Society. Many prominent artists and poets sprang from the family including the composer Ralph Vaughan Williams.
She was born Frances Darwin on the 30th March 1886 and spent her formative years in the area of Cambridge. As her father had a similar name – Francis – the family tended to call her "FCD" with the middle letter of that acronym referring to Crofts, which was her mother's maiden name. Curiously she also married a Francis so after her marriage to the classicist and fellow poet Francis Cornford in 1909 she was then known as "FCC". They had five children together – two girls and three boys
Understandably her family circumstances were quite comfortable and she was able to enjoy a private education, almost exclusively at her home. As her wider family was quite large she was able to enjoy the regular company of many aunts, uncles, and cousins. She showed an early talent as a writer but it was not until 1908 that her first collection of poems was published under the title The Holtbury Idyll. This included a short piece about a real, or perhaps imagined, sight of a fat woman walking in a field, viewed from a train. The poem, To A Lady Seen From The Train, became her best known poem but it is hard to see why. It is short, like many of her poems, and is fairly non-descript in style and content but some critics viewed it as both sad and humorous. The poem, in triolet form which has eight lines with only two rhymes used throughout, is reproduced here:

It was five more years before Spring Morning, her next collection, was published and four more volumes followed including Autumn Midnight in 1923 and Different Days in 1928. Her 1934 collection, Mountains and Molehills, was illustrated with woodcuts by the artist Gwen Raverat, who happened to be one of the author's cousins. Her final set of original poems was published in 1948 with the title Travelling Home. Collected Poems, an anthology of her work, appeared in 1954. Just one year before her death Cornford was awarded the Queen's Medal for Poetry, in 1959, in recognition of her life's work.
Frances Darwin Cornford died in Cambridge on the 19th August 1960 at the age of 74 and she was buried in the Ascension Parish Burial Ground which is where many of the academics and non-conformists of Cambridge ended up during the 19th and 20th centuries. It was fitting that this should be her final resting place, having grown up and lived for much of her life in and around Cambridge. Her obviously deep love of the town and its academic traditions shine through in many of her poems.